Night Raid 1931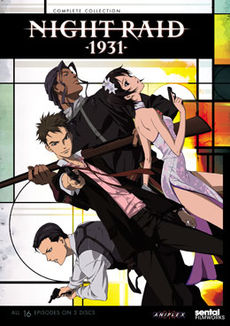 閃光のナイトレイド
Senkō no Night Raid
Genre: Action, Historical, Science fiction
TV Anime
Directed by: Jun Matsumoto
Produced by:
Akiko Odawara
Kazunori Adachi
Written by: Shinsuke Onishi
Music by:
Satoshi Kadokura
Taro Hakase
Studio: A-1 Pictures
Liscened by: Sentai Filmworks
Network: TV Tokyo
Original run: April 5, 2010 - June 28, 2010
Episodes: 13
Night Raid 1931
(閃光のナイトレイド

,

Senkō no Night Raid, lit. Night Raid in Flash)
, is a Japanese
anime
television series
produced by
A-1 Pictures
and
Aniplex
and directed by Jun Matsumoto. The 13-episode anime aired in Japan on the
TV Tokyo
television network starting April 5, 2010.
Senkō no Night Raid
is the second project of
Anime no Chikara
.
Sentai Filmworks
announced they have acquired the series and will release it on
Blu-ray
and
DVD
in August 2011. This anime has also aired on Anime Network which is a television network for On Demand.
Set in Shanghai in 1931, the Imperial Japanese Army has been dispatched to mainland China due to the relatively recent First Sino-Japanese War, Russo-Japanese War, and World War I. In this cosmopolitan city of intrigue, there is a special military spy organization called "Sakurai Kikan" that has since been buried in history.
Spy intrigue set in 1930's Shanghai, with an anime action twist. A Japanese businessman has been abducted in Shanghai by kidnappers demanding weapons in exchange for his life. Knowing that the weapons will be used to battle Kuomintang nationalists, Sakurai Kikan, a Japanese military spy organization, is dispatched to retrieve the hostage. Sakurai Kikan consists of four spies with abilities that are...unusual. Like telescopic X-ray vision, telekinesis, teleportation and telepathy. Their plan: to infiltrate the camp where the hostage is being held and remove him, by force if necessary.